Engineering water wells begins with a thorough understanding of the aquifer. Test holes are necessary to determine the aquifers integrity and locate an acceptable location for the new well. A location which has the following properties is highly desirable:
Saturated Thickness – High
Relative Density – Low
Coarseness of the Sand – High
Amount of Fines in the STRATUM – Low
From a single well to an entire field – BWP's capabilities and track record speak for themselves. We provide our clients the data and analysis that allows them to make confident decisions.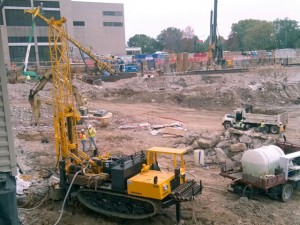 A Hydrologic Engineering Study is approached as a multi-phase project at Brotcke Well & Pump, Inc. While there can be many variations from project to project, our approach is as follows:
PHASE 1 Test Boring Program
PHASE 2 Laboratory Sieve Analysis
PHASE 3 Test Well Construction and Pump Testing
PHASE 4 Engineering Analysis and Report
LOCATING NEW SOURCES OF GROUND WATER FOR OVER 35 YEARS
BWP, INC. | EXPERT WATER WELL & PUMP SERVICES
Hydro-geologic Design Services
Water Well Installation
Water Well Rehab
Pump Sales & Installation
Complete Pump Service and Repair
In-house Machine Shop Services
Geotechnical & Environmental Drilling
Direct Push Services