WE PROVIDE YOUR CONSUMERS ONE OF LIFE'S BASIC NECESSITIES
---
Sure, our expertise is finding water, drilling water wells and maintaining them. But what is the end result of our services for you?
Now with offices in Kansas City and St. Louis, BWP is licensed to work in Missouri, Illinois, Tennessee, Kentucky, Kansas, Iowa and Arkansas.
Water Well Drilling and Design
Brotcke Well & Pump Company, Inc., (BWP) is a full service design-construct, municipal and industrial water well and pump service contractor. For over 30 years, BWP has been providing water-related engineering and construction services to clients throughout the Midwest.
BWP performs design-construct services ranging from complete hydrologic engineering investigations to locate new water supply aquifers to the selection of rehabilitation procedures. We have installed both alluvial and consolidated water wells from small capacity wells to installations over 3200 GPM. We specialize in alluvial gravel wall wells with outside diameters ranging from 20 to 60 inches. When required, double gravel wall wells have been recommended and installed to provide an effective filter for very fine sand formations. Dependent on the requirements, both direct rotary and reverse rotary water well drilling techniques are utilized. Well design is based on intended use, desired capacity and the aquifer's hydrologic properties.
One or more test borings are required to define the aquifer at the desired well location. Gradation tests of representative samples allow selection of well screen slot size and gravel pack. The right well screen coupled with the proper gravel pack results in a highly efficient, sand free well – our project goal.
Well screens and casing ranging from 8″ to 36″ are commonly used with bore hole diameters ranging from 24″ to 60″.
BWP specializes in reverse circulation drilling – the preferred method in unconsolidated formations because it minimizes drilling fluid additives, assuring a high-efficiency well.
Well Rehabilitation
Over time, water wells become clogged and lose efficiency which directly relates to drinking water quality and quantity. Naturally occurring minerals precipitate out of solution as they enter the gravel pack and well screen of water wells. These minerals accumulate on the openings of the well screen and open spaces in the gravel pack, reducing the yield of the well. The precipitated minerals, along with oxygen introduced by the operation of the pump, cause an increase in biological activity, further reducing the yield of the well.
The environment in a water well is oxygen- and mineral-rich, ideal for bacteria to thrive and plugging to occur. If not cleaned, the gravel pack and well screens get clogged. The more clogged they get, the more costly it can be to rehabilitate a well. Left unattended, there is always the possibility of a system failure.
We won't let that happen to you.
Inspections are extremely important in the evaluation of your equipment. BWP's experienced personnel will provide you with a detailed inspection of your well and pump. We provide you inspection documentation that ensure compliance. Should pump repairs be necessary, Brotcke Well & Pump provides a 100% guarantee. If the well needs cleaning, we have a patented process to not only clean your well, but also improve efficiency.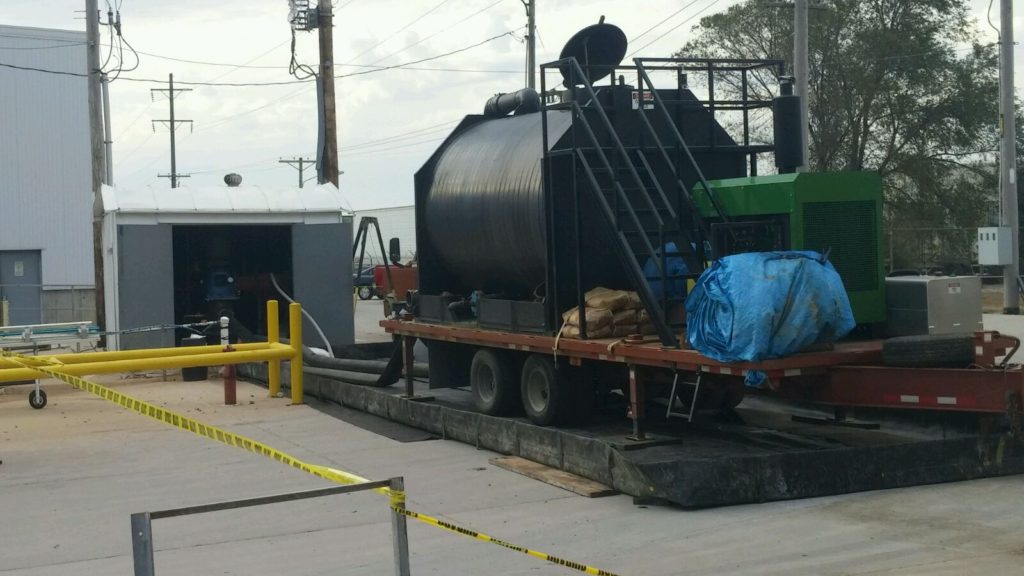 The Brotcke High Velocity Injection Process (U.S. Patent Number 5392814) is designed to clean this material mechanically by injecting a custom blend of chemicals at rates of up to 4,200 GPM with pressures of 60 PSI. By reversing the flow of fluid into the well at an extremely high rate, the loosened mineral and biological build up is removed from the well screen, gravel pack and native formation. Adding a custom blend of chemicals to the process achieves more effective cleaning by dissolving the mineral buildup and sequestering these materials so they can be removed from the well.
Our High Velocity Injection Technique has successfully rehabilitated hundreds of wells in the Midwest. Through this process, mineral deposits are removed from the formation as well as the well screen resulting in capacities much higher than those achieved by traditional methods of well cleaning.
Brotcke Well & Pump, Inc. (BWP) uses a patented High Velocity Injection Treatment process is a unique technique designed by BWP. A custom blend of chemicals engineered to meet each well's specific requirements is injected and surged into the well and forced out into the formation.
All chemicals used by BWP are National Sanitary Foundation (NSF) approved.
[insert video here]
Our patented treatment system is designed to:
clean the well screen with a combination of pressure and chemistry
dissolve and remove build up
sterilize the well environment
improve flow capacity
Airshock
The AirShock® Impulse Generator (AIG) is the latest, environmentally-safe water well rehabilitation process. It uses bursts of compressed gas to remove build-up from well screens, gravel packs and surrounding aquifers. It provides a "green" alternative to water well rehabilitation and development because it uses fewer (if any) chemical additives.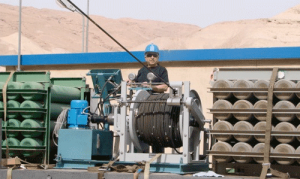 GREEN TECHNOLOGY

AIG fires automatically once every 2-3 seconds and each burst lasts just several dozens of milliseconds. Resulting shock waves and powerful water surges, produced by this process, successfully remove incrustation in the well screen, gravel pack and surrounding aquifer. In a very short time, a well is completely restored to the highest level of efficiency. The method is unique both in success and ease of setup and operation.
80 – 120% WATER WELL RESTORATION



AIRSHOCK® Impulse Generator is:
Safe, environmentally friendly
Highly effective for both screened and open wells
Relatively short procedure of a few hours
Well downtime 1-2 days only
Used independently or in combination with chemicals
Reliable equipment with negligible maintenance through years
Contractor-owned
Hydrological Investigations
Engineering water wells begins with a thorough understanding of the aquifer. Test holes are necessary to determine the aquifers integrity and locate an acceptable location for the new well. A location which has the following properties is highly desirable:
Saturated Thickness – High
Relative Density – Low
Coarseness of the Sand – High
Amount of Fines in the STRATUM – Low
From a single well to an entire field – BWP's capabilities and track record speak for themselves. We provide our clients the data and analysis that allows them to make confident decisions.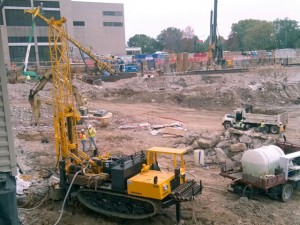 A Hydrologic Engineering Study is approached as a multi-phase project at Brotcke Well & Pump, Inc. While there can be many variations from project to project, our approach is as follows:
PHASE 1 Test Boring Program
PHASE 2 Laboratory Sieve Analysis
PHASE 3 Test Well Construction and Pump Testing
PHASE 4 Engineering Analysis and Report
Direct Push Drilling
BWP has a GEOPROBE 6610DTX. This versatile, track-mounted unit allows our crews access to almost any location. Speed and versatility is a key to quickly collect soil and gas samples allowing you to make better, well-informed decisions. BWP has tooling to extend sampling to any requested depth.
Geotechnical Drilling
Brotcke Well & Pump, Inc., (BWP) is a full-service, geotechnical and environmental drilling contractor incorporated in 1983. Our employees are trained to advance bore holes through overburden using both hollow steam augers and mud rotary drilling techniques. Their extensive experience with rock coring and other sampling methods (such as split spoons, shelby tubes, continuous samplers and piston samplers) assures our clients results. We have a complete array of drilling equipment to best serve our clients. Our equipment includes auger drilling rigs complemented with various sizes of drilling tools, steam cleaners, support trailers, service trucks, mobile cranes, decontamination equipment, protective clothing and safety equipment.

Our core set of geotechnical and environmental drilling services include:
Geotechnical exploration including soil drilling, rock coring, standard split spoon sampling, thin wall Shelby tube sampling and piezometer installation.
Environmental exploration including drilling and installation of groundwater monitoring wells, monitoring well decommissioning, environmental drilling and sampling.
Our in-house laboratory is capable of performing a limited range of testing, such as visual soils and rock classification, gradation analysis and moisture contents.
Full aquifer testing and groundwater quality testing.
Borehole geophysical logging services
In-situ testing services
Installation of vibrating wire piezometers
Machining Excellence
Brotcke Well & Pump's machine shop is located at our Fenton office. Complete machine shop services are available to ensure timely and professional repair of both vertical turbine and horizontal pumps. Specialized components or standard pump parts can be fabricated to reduce downtime. BWP has a Schenck Horizontal Balancing Machine to complement our machine shop equipment. The Schenck equipment provides high tolerance balancing capabilities for rotating pump components. Our experienced technical staff and full array of equipment results in re-installations with tolerances greater than factory specifications.
Most repairs have tolerances greater than factory specification. If that is not enough, let us know what you require.
Pump Repair
BWP is a full service sales and repair facility.
Our experienced technicians completely disassemble all units, inspecting and repairing parts on an as-needed basis to restore the unit to a like-new condition. Specialized components or standard pump parts can be fabricated in our custom machine shop to reduce downtime. Complete machine shop services are available to ensure timely and professional repair of both Vertical Turbine and Horizontal Pumps. Our re-installations have tolerances greater than factory requirements.
For new installations, our engineers work with your design team to select the pump that fits your specifications. Specialized components and standard pump parts can be fabricated in our custom machine shop. Most often, an existing pump can be rebuilt to a "like new" condition in our on-site machine shop.
We know pump repair and maintenance are critical to your operation. Downtime reduces productivity, quality of output and can create inconvenience with the general populace. We won't let that happen to you. BWP services most makes and models, including:
water pumps
turbine pumps
irrigation pumps
blowers
gear boxes
compressors
cooling tower pumps
All repaired pumps have tolerances greater than factory specification. If that is not enough, let us know what you require.
CALL OR EMAIL FOR A QUOTE TODAY ON ANY OF OUR SERVICES
BWP, INC. | EXPERT WATER WELL & PUMP SERVICES
Hydro-geologic Design Services
Water Well Drilling
Water Well Installation
Water Well Rehab
Pump Sales & Installation
Complete Pump Service and Repair
In-house Machine Shop Services
Geotechnical & Environmental Drilling
Direct Push Services